Try Features in the Play Area
Want to try Problem-Attic's newest technology features? They're all available in the Play Area—no need to subscribe. With a database of about 4000 sample questions, you can create online tests and slideshows, use the scoring app, export a quiz to Google or your LMS, and more!
Getting to the Play Area is easy. Log in to Problem-Attic and click Play Area in the main menu (top of the screen). When you're done, click Create or Organize or simply log out.

In the Play Area, you'll see the title of your document just below the main menu. By default, the title is "Feature Evaluation". To change it, click Rename.
The Select, Arrange, Format and Make PDF tabs work the same in the Play Area as in the regular part of Problem-Attic. One difference is that everything in the Play Area is editable. When selecting and arranging problems, look for the Edit icon. There's also a Write New Problem button on the Arrange tab.
Problem-Attic's editor is very sophicated and includes a fast way to upload your own graphics and type math formulas and special symbols. It also includes a clipart library, which is great for problem stimulus: about 60,000 graphics sorted by topic. (About 2000 of those are available in the Play Area.) For help with the editor, click here, or click the following to learn about live math and the graphics library.
After you've selected or written some questions, you can see how Problem-Attic supports your other classroom technology and how it can be used for blended and self-paced learning. In the Play Area, the Export and Score tabs are live. Be sure to click them and try these options: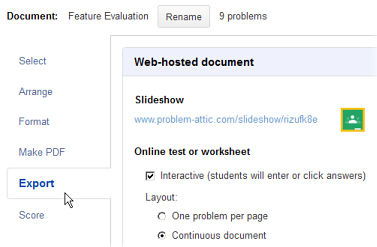 Slideshows

Problem-Attic can host a slideshow for you, for projection on any screen. Or else you can download a PowerPoint or native file for SMART, Promethean and other interactive whiteboards. The slideshows are great for quick quizzes, lessons, review, daily warmups, etc.

Online tests and worksheets

With these options, you can deliver questions to any web-enabled device: smartphones, tablets, Chromebooks, etc. You'll see options for both interactive and non-interactive documents, one problem per page or continuous. ("Interactive" means students submit answers online.) You can even post links directly to Google Classroom.

Scoring app

The scoring app has all kinds of options for formative assessment and self-paced learning. It works with all questions in Problem-Attic and any type of document: PDF, slideshow, or online test/worksheet. It handles free-response as well as multiple-choice, and it allows students to access a test or answer sheet with a QR code—very cool!

Export a quiz to your LMS

Problem-Attic's scoring app, while highly versatile, does not connect to an SIS or track student progress. It doesn't have to! With the press of a button, you can export a quiz and then deliver it through your learning management system. All of the popular systems are supported: Schoology, Canvas, itsLearning, Moodle, and others. For instructions on exporting a quiz, please click here

Export a quiz to Google

If you click the Export tab, you'll see the Google Quiz button. Simply click the button and you'll be on your way to converting questions to a Quiz Form. Note: the first time through you will review the Terms of Service and be give help for installing a Google Docs add-on. Complete instructions are here.
There is more to try in the Play Area than what's listed above. Please click the Settings button on the Score tab and look at the options for an online test and for exporting results to a gradebook program. Also, be sure to try inline math in the editor and then see how students can use the same feature for answering free-response questions. For step-by-step instructions, see Problem-Attic' online help
Note: there is no time limit to the Play Area and you can return as often as you like. There are just a few limitations that you should know about:
You can browse and select questions only from the sample database.
You can create only one "active" document, but you can add/remove questions, change the title, and preview/print multiple versions of it.
You cannot share your document with other teachers (there's no public link). Also, any edits that you make are lost if you return to the Play Area and start a new document.
We hope you'll enjoy the Play Area and the additional features that come with a school subscription. For details, click here. We appreciate your support of the program!